This cake is, quite simply, a showstopper. With mounds of fresh strawberries layered between billows of whipped cream and disks of slightly chew almond meringue, it tastes as fabulous as it looks.
Recipe from: Fire + Ice: Classic Nordic Cooking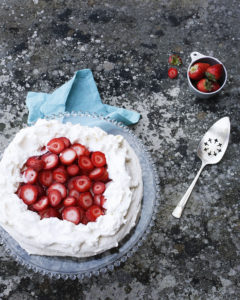 Print
Strawberry Meringue Cake (Mansikkakaku)
Yield 6 servings
Ingredients
1 cup blanched almonds
1½ cups + 2 tablespoons sugar, divided
6 egg whites
Pinch of salt
1½ cups heavy cream
¼ teaspoon pure vanilla extract
2 cups strawberries, sliced
Instructions
Preheat the oven to 350ºF. Place the almonds on a baking sheet and toast until just golden, 6 to 8 minutes. Lower the heat to 250ºF.
Transfer the almonds to the bowl of a food processor. Add ½ cup of the sugar and pulse until the almonds are finely ground.
Place the egg whites in the bowl of a stand mixer and beat on high speed until foamy. Add the salt and gradually beat in 1 cup of the sugar until stiff peaks form. Continue beating on the highest speed until you have a stiff, shiny meringue for about 3 minutes. Gently fold in the almond mixture.
Line a large baking sheet with parchment paper. With a spatula, carefully spread the meringue into two 8-inch rounds, smoothing the tops. Bake until pale gold, about 1 hour. Then turn off the heat and prop the oven door ajar with the handle of a wooden spoon. Let the meringues dry in the oven for 2 hours more, until no longer sticky to the touch.
When the meringue layers are ready, whip the cream with the remaining 2 tablespoons of sugar and the vanilla until stiff but not dry. Carefully transfer one meringue layer to a cake plate. Spread ½ cup of the whipped cream over the layer and top the cream with half of the strawberries. Cover the strawberries with another ½ cup of the whipped cream. Place the second meringue layer on top of the filling. Decoratively pipe the remaining ½ cup whipped cream around the edge of the meringue layer, and fill the center with the remaining sliced strawberries.
Place the cake in the refrigerator to chill for 1 hour before serving to allow the flavors to meld. It can be held up to 4 hours before it begins to weep. Let it stand at room temperature for 15 minutes before serving.