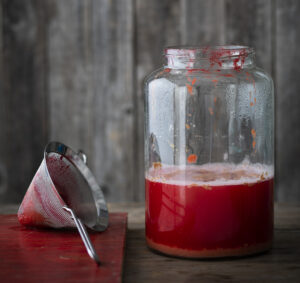 Print
This refreshing drink, with its subtle raspberry flavor and pale rose hue, tastes like summer. Unlike other types of kvass that require longer fermenting, this one is quickly prepared, taking only 24 hours from berry patch to mouth. Try drinking fruit kvass in place of lemonade for fewer calories and a probiotic boost.
Ingredients
1 quart raspberries
4 quarts water
½ cup mild honey
1 teaspoon instant yeast
12 raisins
Instructions
Pour the raspberries into a large stockpot and crush them with a potato masher. Add the water and bring to a rolling boil, then immediately remove the pot from the heat. Cool the liquid to lukewarm, about 105ºF.  This will take several hours.
Strain the raspberries through a double layer of cheesecloth into a 1-gallon jar. Discard the berries. Stir the honey into the warm liquid.
In a small bowl dissolve the yeast in 2 tablespoons of the raspberry water. When it foams, add it to the jar containing the rest of the liquid. Cover the jar with cheesecloth (fruit flies can't resist this fermenting kvass!) and leave at room temperature for 12 hours or overnight.
Prepare three 750-ml swing-top stoppered bottles by scalding them with hot water. Divide the kvass among the jars, adding 3 raisins to each bottle. Seal and leave the kvass to ferment at room temperature for 6 hours. Then transfer to the refrigerator. Serve well chilled.
Makes 1 gallon.
Recipe from Beyond The North Wind.