Walnuts and quince are a match made in heaven, and this dessert will bring raves from your guests. Because it's so rich and sweet, I save it for the highlight of a meal rather than serving it after a heavy entrée. I prefer the quince with an ever-so-slightly-restrained three-quarters cup of sugar, but others embrace the full amount. Either way, this is a dish to remember.
Recipe from: The Georgian Feast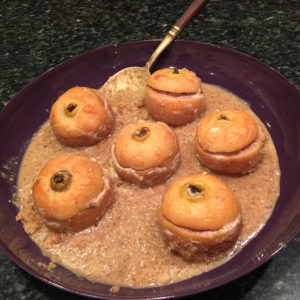 Print
Poached Quince with Walnuts (Komshi nigvzit)
Yield 6 servings
Ingredients
6 quince
½ pound walnuts
¾ to 1 cup sugar
½ cup heavy cream
2 tablespoons currants
2 tablespoons unsalted butter, softened
2½ cups water
Instructions
Cut a 1-inch slice off the top of each quince and set aside. Core the quince and remove all the seeds, carving out a hollow about 1¼ inches in diameter in each one.
In a food processor grind the walnuts finely with the sugar. They should be fairly finely ground, but avoid making a paste. Don't worry if a few small pieces of walnut remain—they'll add some nice texture.
Transfer the nut mixture to a bowl and stir in the heavy cream and currants. You'll have about 2 cups of this mixture. Fill the hollows of each quince with about 1 tablespoon of the filling, reserving the rest.
Replace the lids on the quince and place the fruits in a 4-quart, wide-bottomed saucepan just large enough to hold them in a single layer. Add enough water to come just below the lid lines. Cover the pan and bring the water to a boil, then reduce the heat and simmer the quince for 45 to 50 minutes, until they are soft.
With a slotted spoon carefully lift the quince from the pan and set in a wide, shallow serving bowl. Measure out ½ cup of the quince water and whisk it into the reserved nut mixture, along with the butter. Pour the sauce around the quince and serve warm.
Notes
The quince can be made early in the day and finished for evening dessert. Poach as directed above. Lift the cooked fruit from the pan with a slotted spoon and transfer to a plate. Reserve ½ cup of the cooking water to make the walnut sauce; discard the rest. Return the quince to the pan and let them sit, covered, at room temperature.
About 15 minutes before you're ready to serve dessert, whisk the reserved cooking water into the walnut-sugar-cream mixture, along with the butter. Pour the sauce around the quince and bring to a simmer. Simmer gently for 10 minutes to reheat. Transfer the quince and the sauce to a serving bowl.