There's no typo here! …This ruby beet tartare is a vegetarian take on the classic råbiff introduced to Sweden from France in the nineteenth century. Like many salads, it's most dazzling in summer, when beets are sweet and garden fresh. Winter beets will yield a darker garnet dish, not quite so brilliant, and you may want to add a little sugar to perk it up. Spread these beets on bread or crackers, plate them with cured fish or meat, or scoop them onto a bed of lettuce. Th…e flavor is beautiful at any time of year.
Recipe from: Fire + Ice: Classic Nordic Cooking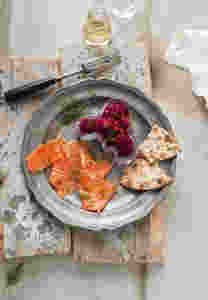 Print
Beet Tartare
Yield 2 cups
Ingredients
11⁄2 pounds beets
1 by 1⁄2-inch piece horseradish,
peeled and chopped
1 tablespoon cider vinegar
1 small shallot, coarsely chopped
2 tablespoons coarsely chopped
dill pickle
1 tablespoon mayonnaise
2 tablespoons minced fresh dill
1⁄4 teaspoon salt
Freshly ground pepper to taste
Instructions
Bring a large pot of salted water to a boil. Add the beets and cook until tender, 30 to 45 minutes, depending on their size and age. Drain, peel, and chop coarsely.
In a mini food processor or spice grinder, whir the horseradish with the cider vinegar until it is grated.
Place the beets in the bowl of a food processor. Add the grated horseradish mixture along with the shallot and pickle and process until finely chopped. Be careful not to make a puree— the tartare should be minced, with some texture.
Transfer the beets to a bowl and stir in the mayonnaise, dill, and salt. Season with pepper to taste. Cover and refrigerate for at least 2 hours before serving.