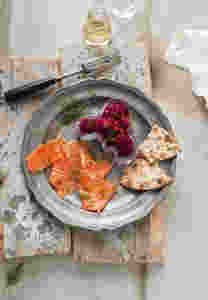 Beet Tartare
Yield 2 cups
Ingredients
11⁄2 pounds beets
1 by 1⁄2-inch piece horseradish,
peeled and chopped
1 tablespoon cider vinegar
1 small shallot, coarsely chopped
2 tablespoons coarsely chopped
dill pickle
1 tablespoon mayonnaise
2 tablespoons minced fresh dill
1⁄4 teaspoon salt
Freshly ground pepper to taste
Instructions
Bring a large pot of salted water to a boil. Add the beets and cook until tender, 30 to 45 minutes, depending on their size and age. Drain, peel, and chop coarsely.
In a mini food processor or spice grinder, whir the horseradish with the cider vinegar until it is grated.
Place the beets in the bowl of a food processor. Add the grated horseradish mixture along with the shallot and pickle and process until finely chopped. Be careful not to make a puree— the tartare should be minced, with some texture.
Transfer the beets to a bowl and stir in the mayonnaise, dill, and salt. Season with pepper to taste. Cover and refrigerate for at least 2 hours before serving.
Recipe by Darra Goldstein at https://darragoldstein.com/beet-tartare/