Rather than succumb to the doldrums of winter, I try to be Nordic and embrace the bitter cold and the dark. And that sometimes means playing with fire!
We have a wood-fired oven in our kitchen, where we bake bread and pizza and like to roast meat and vegetables near the coals. Recently we began looking for culinary ways to use some of the ash, and this New Nordic technique for coating root vegetables has become a favorite.
When you smear celery root with a paste of salt and ash, the interior turns out wonderfully creamy and perfectly seasoned. Lacking a wood-fired oven, you can use ash from a regular fireplace or from a grill, as long as it comes from hardwood.
Recipe from: Fire + Ice: Classic Nordic Cooking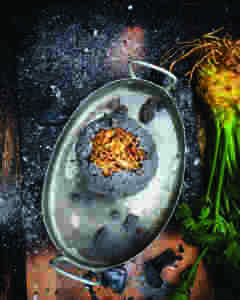 Print
Salt and Ash-Baked Celery Root
Yield 4 servings
Ingredients
1 small celery root (about
14 ounces)
21⁄2 cups salt
1⁄2 cup fireplace ash
1⁄2 cup water, or as needed
2 tablespoons butter
2 tablespoons chopped fresh
parsley
Instructions
Preheat the oven to 350°F. Scrub the celery root. In a small bowl, stir together the salt, ash, and water to make a paste that holds together when you squeeze it with your hand (the amount of water will depend on how dense the ash is).
Spread the paste all over the celery root, pressing down so that it adheres, and place the celery root in an ovenproof dish. Bake until you can easily insert a small knife, about 2 hours.
Just before the celery root comes out of the oven, melt the butter in a small pan over low heat, then stir in the parsley. Set aside.
Remove the celery root from the oven and crack the crust open with a meat mallet. With a small paring knife, peel the charred celery root, then slice it lengthwise and arrange on a platter.
Drizzle the parsleyed butter over the top and serve immediately.