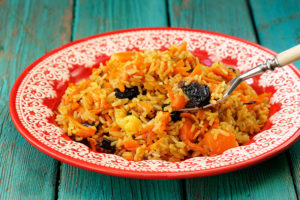 Winter Holiday Pilaf
Yield 6 servings
Ingredients
½ cup dried chickpeas
1/4 cup light olive oil
1 small white onion, peeled and thinly sliced
½ pound carrots, peeled and julienned
1 small parsnip, peeled and julienned
1 quince, peeled, cored, and cut into 8 wedges (see Notes)
3 cups vegetable broth
2 teaspoons freshly squeezed lemon juice
¼ cup raisins
¼ cup dried apricots, halved
2 whole heads of garlic, unpeeled, ½ inch sliced from the tops
1 ½ teaspoons cumin seed
1 teaspoon ground cumin
½ teaspoon salt
Freshly ground black pepper
1/8 teaspoon paprika
Pinch of turmeric
1 ¼ cups raw rice
¼ cup finely chopped parsley
¼ cup finely chopped fresh coriander (cilantro)
Pomegranate seeds (optional)
Instructions
Step 1
Soak the chickpeas overnight in water to cover. Drain before using.
Heat the oil in a large wok. Add the onion and fry over medium-high heat for 1 to 2 minutes. Stir in the carrots and parsnip and cook, stirring occasionally, for 5 minutes more, until the vegetables are lightly browned. Place the quince, the drained chickpeas, 1 ½ cups of the vegetable broth, the lemon juice, raisins, and apricots on top of the vegetables. Submerge the heads of garlic in the broth in the center of the wok.
Step 2
Bring the mixture to a boil, then stir in the cumin seed, ground cumin, salt, pepper, paprika, and turmeric. Pour the rice over the broth, then add the remaining 1 ½ cups broth. Cover the wok and cook over medium heat for 5 minutes. Remove the cover and stir the rice to coat each grain with broth, taking care not to disturb the fruits and vegetables at the bottom. Replace the cover and cook 10 minutes more. Then, with a chopstick make several holes in the rice to the bottom of the wok. Continue to cook the rice, covered, until it is tender and the liquid has been absorbed, 10 to 15 minutes longer.
Step 3
Remove the garlic and set aside. Stir the pilaf gently to avoid mashing the quince. Transfer to a large platter and scatter the minced parsley, fresh coriander, and pomegranate seeds over the rice. Display the heads of garlic prominently on top and serve.
Notes
I have had success substituting a large Asian pear for the quince. Peel, core, and slice it into eight wedges. If neither quince nor Asian pears is available, try using a large, tart apple.
Pomegranate seeds freeze well. When the fruits are in season in the autumn, save the seeds, wrap them airtight, and store in the freezer for up to 6 months.
The traditional accompaniment to this pilaf is a plate of scallions and shredded radishes. I also like to serve flatbread on the side.
Recipe by Darra Goldstein at https://darragoldstein.com/winter-holiday-pilaf/