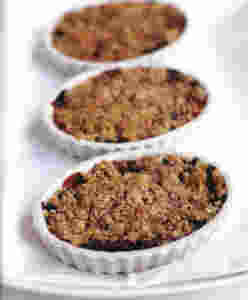 Spiced Berry and Pear Crisp
Yield 6-8 Servings
Ingredients
3 cups mixed berries
4 medium pears (Bartlett or Comice), peeled, cored, and diced
½ cup packed brown sugar
1 tablespoon freshly squeezed lemon juice
1 teaspoon grated lemon zest
¾ teaspoon ground cinnamon, divided
¼ teaspoon ground nutmeg
¼ teaspoon ginger
½ cup all-purpose flour
½ cup rolled oats
½ cup toasted chopped nuts (almonds, walnuts, or pecans)
½ cup sugar
½ teaspoon salt
¼ cup (½ stick) unsalted butter, diced
1 egg, lightly beaten
Instructions
Step 1
Preheat the oven to 375ºF. Lightly butter a deep 2-quart baking dish or 6 individual gratin dishes.
Step 2
Combine the berries, pears, brown sugar, lemon juice, lemon zest, ¼ teaspoon of the cinnamon, the nutmeg, and ginger in the baking dish. Spread into an even layer.
Step 3
Combine the flour, oats, nuts, sugar, salt, and the remaining ½ teaspoon cinnamon in a food processor. Pulse the machine on and off a few times to combine. Add the diced butter to the oatmeal mixture and process just until the mixture looks crumbly.
Step 4
Spread the oatmeal mixture evenly over the filling and bake in a preheated oven until the top is golden brown and the fruit is tender, about 1 hour.
Recipe by Darra Goldstein at https://darragoldstein.com/spiced-berry-and-pear-crisp/