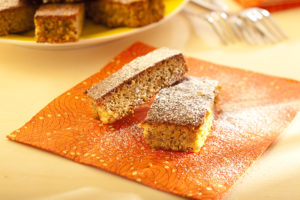 Gingerbread With Hot Orange Sauce
Ingredients
Gingerbread
1 egg
6 tbsp. light brown sugar
1/2 cup dark molasses
6 tbsp. unsalted butter, melted
1 tsp. ground ginger
3/4 tsp. ground cinnamon
1/4 tsp. ground cloves
1/4 tsp. grated nutmeg
Pinch of salt
1 tsp. baking soda
1/4 tsp. baking powder
1 cup all-purpose flour
1/2 cup boiling water
Hot Orange Sauce
1/2 cup sugar
1/4 cup firmly packed light brown sugar
4 tsp. cornstarch
1/2 cup freshly squeezed orange juice
2 tbsp. freshly squeezed lemon juice
1 tsp. grated orange rind
Pinch of salt
2 tbsp. unsalted butter
1 tbsp. light corn syrup
3/4 cup water
Instructions
Gingerbread
Preheat the oven to 350°F. Grease an 8-inch-square pan.
Beat the egg into the brown sugar in a medium bowl. Stir in the molasses, melted butter, and spices, mixing well, then add the salt, baking soda, baking powder, and flour. Beat in the boiling water. The batter will be loose. Pour the batter into the prepared pan and bake for 30 minutes, or until a cake tester inserted in the center comes out dry. Allow to cool before cutting into squares. Serve plain or with hot orange sauce.
Hot orange sauce
Mix the sugars with the cornstarch in a medium saucepan. Gradually add the orange and lemon juices, stirring vigorously to avoid lumps. Stir in the orange rind, salt, butter, corn syrup, and water. Bring to a boil over medium heat and cook until the sauce thickens, 5 to 8 minutes. Serve hot.
Recipe by Darra Goldstein at https://darragoldstein.com/gingerbread-with-hot-orange-sauce/