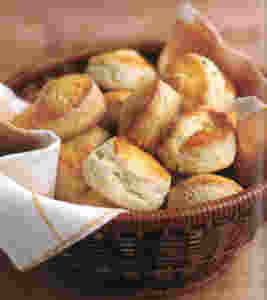 Cheddar Jalapeño Biscuits
Yield 12 biscuits
Ingredients
1½ cups bread flour
1¼ cups all-purpose flour
2 teaspoons sugar
2 teaspoons baking powder
¼ teaspoon baking soda
1 teaspoon salt
½ cup (1 stick) cold unsalted butter, cubed
1½ cups grated cheddar cheese
¾ cup whole milk
1 egg, lightly beaten
1 tablespoon jalapeño, minced
Egg wash of 1 egg whisked with 1 tablespoon water
Instructions
Step 1
Preheat the oven to 425ºF. In a medium bowl combine the bread flour, all-purpose flour, sugar, baking powder, baking soda, and salt. With a pastry blender, fork, or two knives, cut the butter into the flour until the mixture is the consistency of coarse cornmeal; set aside.
Step 2
In a small bowl, combine the cheese, milk, 1 egg, and jalapeño. Add this cheese mixture to the flour mixture and stir just until the dough starts to pull away from the sides of the bowl. Do not overmix.
Step 3
Scrape the dough from the bowl onto a lightly floured surface and knead lightly 8 to 12 times, gently pressing the dough together as you knead. Roll out or use your fingertips to press down the dough to a 1-inch thickness; using a 2-inch round cutter, cut the dough into biscuits. Gather scraps together, re-roll, and cut additional biscuits.
Step 4
Place the biscuits on an un-greased baking sheet approximately 1 inch apart and lightly brush the tops with the egg wash. Bake until golden brown, 12 to 15 minutes.
Recipe by Darra Goldstein at https://darragoldstein.com/cheddar-jalapeno-biscuits/